---
To many, and for a good reason, the 2020 UEFA European Football Championship final may seem geographically distant and remote. However, to a Person of Colour, the events that unfolded on the evening of Sunday 11 July will sadly feel uncomfortably close and familiar.
That evening, in a match that took place at London's Wembley Stadium, England broke a fifty-five-year drought in reaching a major football championship final against Italy.
Devastatingly, the match ended in a heartbreaking penalty shootout with Marcus Rashford, Jadon Sancho, and Bukayo Saka missing their penalties.
Despite England scoring a commanding goal within the first two minutes of the match opening, we watched with sadness and despair as the team that had brought the nation together narrowly missed changing the script we had become accustomed to since the 1966 World Cup.
As we watched, a realisation and a touch of sadness, which I suspect most People of Colour would have thought, if not recognized, began to form: These players are going to receive abuse. I wonder to what extent. This was my immediate reaction and words to my family, followed by, I hope they receive the support and recognition they deserve.
From the scenes on the pitch, I knew that their England manager, Gareth Southgate, had been there before and knew all too well what twenty-plus years of living with the painful reminder was like.
The Backlash and the Response
I expected a contingent of so-called fans to express their disappointment with—criticise—the whole game, extra time, and penalties. Because of the colour of the players' skin, I also expected a small minority of misguided individuals to level some form of abuse towards the players. A person's skin colour often becomes an easy target and the reason why an individual is severely judged by a few.
Within hours after the final penalty, the answer to the question I did not want answered was beginning to form. An incomprehensible cesspit of hatred was all over social media, not just posted by a small number of individuals fishing for a response, but some deliberately targeted the social media accounts of the players themselves. I will spare you the details, but there is one post I feel I should share because it totally shocked me to the core and raised concern about the safety of my family and myself.
I had to read the screenshot of the post twice because I could not believe a revenge game originally posted on Snapchat detailing a point system was openly circulating. The game was enticing violence and hate specifically towards anyone who was Black. Points were to be awarded for social posting incidents of physically attacking and harming Black people. Hours after the final, as feared, news reports began to surface confirming racial attacks and abuse of People of Colour.
To further add to the torrent of online abuse and physical attacks, a large mural in Manchester of the Manchester United forward Marcus Rashford was defaced after the game. Social posts inciting racial violence towards all Black people continued to circulate well into the middle of the week, and the response by social media companies, as expected, was pitiful.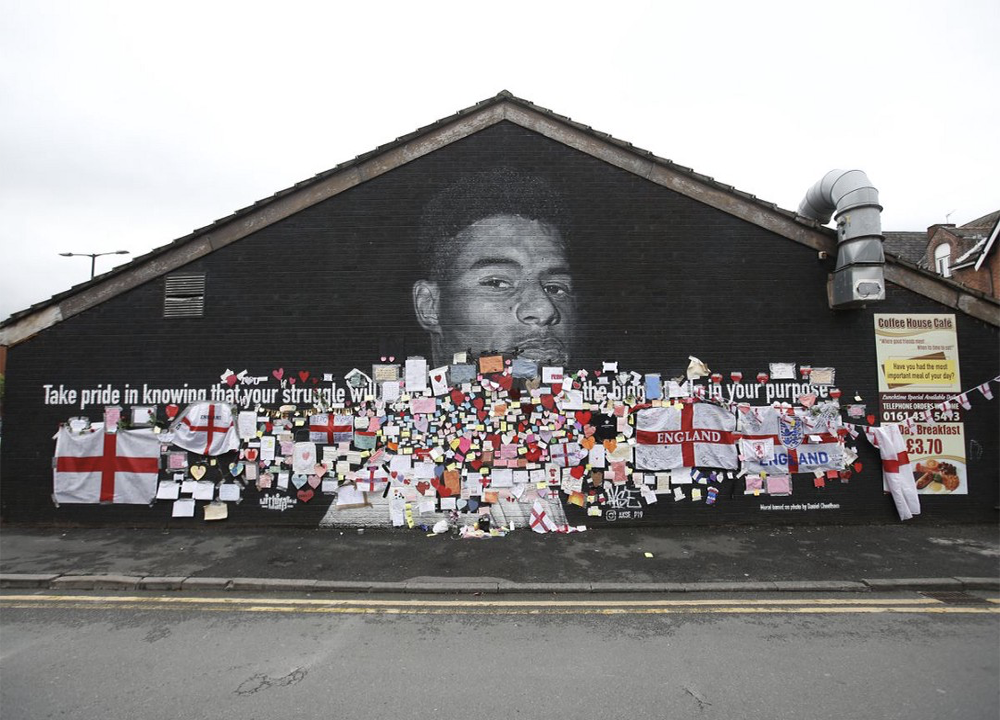 Late Monday morning, our prime minister, Boris Johnson, condemned the racist response and behaviour. Our home secretary, Priti Patel, soon followed with a tweet condemning the backlash. In TV interviews and social posts, the England manager, Gareth Southgate, clearly stated the abuse was "unforgivable." The outpouring of support online and covering up the Manchester mural with supportive messages has been inspiring to see. There has been a unifying message that there is no room and tolerance for hate. "Win together. Lose together. We all stand together against racism" has been one of the many mantras of the last seven days.
The Consequences Are All Too Real
In witnessing the solidarity and support of the last week, I have mixed feelings. On the one side, I hear and see more voices inspired and taking a stand. I hear the conversations and demand for action in response to what many People of Colour from all over the world have been asking for: To be truly heard, seen, treated as equals, end the notion of white supremacy, and know that we matter. When I witness the a-ha moments for many who are beginning to understand the consequences of the society we live in, I am encouraged. But I know all too well, as exemplified by events leading up to and during the football tournament, we still have a long way to go.
It is right to call for the naming and shaming of the racists and bigots and show they are a minority in their actions and thinking. It is right to call on governments and social media companies to stop giving a platform to racist abuse and hate by blocking and removing offensive, racist messages, tracking down and reporting racist trolls. These are all practical solutions in response to the actions of a few. But none of these solutions brings about an overall change in society and culture. Instead, they provide fresh dressings over the wounds that many People of Colour live with every day. We all know after the media attention after whatever restorative justice has taken place, the world will return to the same inequalities and rub along with the disparities that serve a privileged few. For People of Colour, we will remain alert, knowing we can't switch off, put our colour aside and forget that we live in societies where the system is stacked against us. We feel and live with the consequences, especially when our government fails to condemn racist behaviour.
I have mixed feelings because I know behind the attention, behind the media spotlight, racists thrive because the system allows them to. Why do I say this? Well, the consequences of not condemning the racists who booed during the national anthem of other countries and at our England team who took a knee during the playing of their own have played out in a grotesque and demonstrably vile manner. For example, the home secretary calling the England team's anti-racist stand "Gesture Politics" is an example of stoking the fire or rather to the point as the British lawyer, politician and member of the House of Lords, Lady Warsi eloquently said:
"If we 'whistle' & the 'dog' reacts, we can't be shocked if it barks & bites. It's time to stop the culture wars that are feeding division. Dog whistles win votes but destroy nations."
 — Lady Warsi
We have seen events similar to this all over the world when world leaders fail to condemn racist or fascist behaviour. When not enough action is taken, dangerous rhetoric can become a signal in itself, enabling pockets of hate to fester and spill out to all corners of society.
Closing Comments
In writing this essay, I thought about how fortunate my family and I are to live in an area where we have not directly been targeted. However, the proximity to our home and voracity with which the hate has flowed does heighten my senses and make me stop and think about the possibility.
From an early age, my parents taught me racial abuse and attacks are not because I am the problem or deficient as a human being but rather because the offending party has/is the problem. In fact, to take a partial quote from Marcus Rashford, who has done the nation proud with his work both on and off the pitch, he said after the abuse surfaced:
"I can take critique of my performance all day long, my penalty was not good enough, it should have gone in but I will never apologise for who I am and where I came from." —Marcus Rashford
I know living my life worrying about something I can't control or what could happen does not serve me well. But still, I worry there is no predicting who and where an attack may come from. As a Person of Colour, I do my best to live with this uncertainty. I take precautions and learn to deal with situations when they arise.
Witnessing how the world has shown kindness and compassion can and will win over hate any day. I am optimistic there will come a time when the burden of the consequences for racial inaction will no longer rest solely on the shoulders of People of Colour.
---
Top photo: PA Wire/Mike Egerton